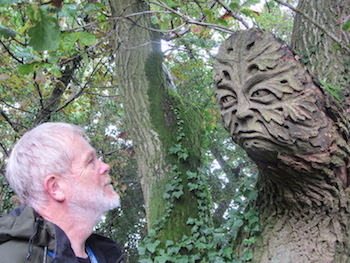 About Christopher
Christopher Somerville is Walking Correspondent of The Times. His long-running 'A Good Walk' series appears every Saturday in the Times Weekend section. He has written some 40 books, many about his travels on foot in various parts of the world, and thousands of articles in all the national newspapers. He has had two collections of poetry published. He loves music, and sometimes tries to play it.

---
From Christopher's book 'The View from the Hill – four seasons in a walker's Britain' (Haus Publishing, 20.09.21) …
New Forest in mist
It was one of those cold, muted Hampshire days in early spring, and the New Forest looked as if it was still deciding whether it was ready to admit the season of new life just yet. Silver birch leaves were quivering at breaking point all across Fritham Plain, rabbits scuttered between green heather and gold sand scrapes, and a whitethroat was hesitantly trying out its scratchy little courting song from a gorse bush spattered bravely with yellow blooms. Yet there was no warmth in the pale ghost of a sun trying in vain to peer through the mist that hung over the Forest.
A morning for brisk walking, then. After a couple of weeks cooped up in the house, Jane and I were glad to step out along the gravelled track that ran away from the forest hamlet of Fritham across the open expanse of heath where ragged-coated ponies were cropping the gorse. Clumps of ancient hollies stood out above the heather and bracken, their smooth branches twined with ivy, their trunks girdled with fresh green shoots of butcher's broom. There was a rich tang of wet earth and of sappy wood, the smell of a springtime about to unpack itself from the ground and the trees.
It was the Normans who brought us the notion of a forest as a hunting enclave. Deer have always needed trees for shelter and open ground for grazing, so forests were never intended to be great unbroken slabs of trees – they developed as mosaics of woodland, water, rough grazing and wetland, with farmland and forest settlements creeping in over the centuries. That's the way the New Forest is today, a rare and wonderful expanse of varied country through which a walker can wander pretty much at will.
From the open heath the path dipped through the skirts of Sloden Inclosure and Holly Hatch Inclosure, blocks of old forestry sheltering yew groves and immense, gnarled oaks as swollen and spindle-limbed as any Arthur Rackham fairy tree. 'Look!' Jane exclaimed, gripping my arm to call a halt. Two fallow does, one heavy with a fawn, were watching us from the trees. Deer and humans stared at one another till the animals tossed up their heads with an air of ineffable contempt and trotted away.
Out from the trees curled the path, making back towards Fritham across the wide heather wastes of Ocknell Plain. Tiny mallard ducklings were scooting across Cadman's Pool in a jostling line, and down in the boggy valley beside South Bentley Inclosure a pair of snipe went zagging away as we plodged noisily towards their feeding place through yellow mud.
The mist never let up all day; in fact it was thickening once more when we got back to Fritham and shook off our mud-laden boots at the door of the Royal Oak. But we'd seen enough of the stirrings of spring on our New Forest walk to add a spice of delight to our lunch of bread, cheese and Ringwood bitter.
---